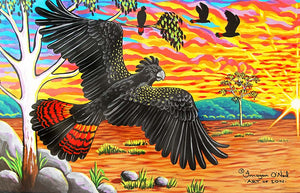 Australian Contemporary Rainforest Art by Imogen O'Neil
Australian Rainforest Artist. Poet. Bohème. Kuranda Small-Batch Hot Sauce Imagineer.
Imogen is an Australian contemporary artist from Kuranda whose work celebrates Australia's rich and diverse landscapes, wildlife and culture. All her work is authentic and AI FREE!!
"The inherent beauty of this still-wild landscape, its people and its waterways have always inspired me. From Kuranda's cherished ties to its First Nations' heritage and Djabuganjdji and Buluwai culture, to the region's glittering and sacred waterholes, and striking totem wildlife, my art tells stories of the spiritual interconnectedness of people with nature and community. Of beauty, resilience, and gratitude. And especially a love and respect for all native Australian wildlife."
You can find her vivid large-scale paintings centre stage at regional events such as Cairns Regional Council's Eco Fiesta, and dressing danceflooors & workshop spaces at FNQ music Festivals such as Nyx and Rootbound; on public murals in Kuranda, and now on Australian-made and designed stretched canvases, quality apparel, and home decor. Each visually striking piece uplifts and inspires with expressive representations of native Australian wildlife and culture.