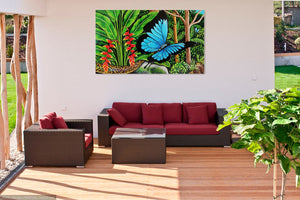 Giclee Stretched Canvas Prints
---
These quality Stretched Canvas Prints feature original artworks by Australian artist Imogen O'Neil - 'Art of ION'.
I get them made by an Australian company, who can drop-ship free of charge to your door anywhere in Oz! I only order them when I receive your order, so please allow 1-3 weeks for printing and shipping.
They come ready to hang in the size options I've provided for each image... Or I can quote you on any custom size up to a max.of 2 metres! 
This is possible for any of the art works you see throughout my website.  It is also possible to order them as Wall Hangings if that is your preference! 
Please feel free to get in touch :-)
If drop shipped to you, these canvases come un-laquered!  If you are local and pick up directly from me I am able to lacquer them for you for a small fee. Although this isn't a necessity, it does provide extra protection in the humidity of the Tropics.
Pls note that some image files fit my printers 'standard' frame sizes, making them more affordable, while others must be custom made and therefore cost more. Where possible I have stretched dimensions of the original file to fit standard size options.
*INFO & CARE INSTRUCTIONS from the printing company I use -
"Our high quality giclee canvases have a 370gsm (grams per square meter) count and are made from a 35% cotton 65% Polyester blend.  We use the HP Latex 360 6 color Printer, and HP 831 latex (pigment based) inks.  We don't laminate our canvases, and our canvas stock is purchased with an emulsion pre applied.
 Our frames are made of kiln-dried plantation pine wood and have a depth of 3cm.
 If required, give it a quick clean using a dusting cloth or gently vacuum with brush attachment. As your canvas won't like getting wet, please don't use any kind of cleaning liquid to wipe or spray it.
 If you keep your canvas indoors, free of dust, moisture and direct sunlight, it will last for many years. It comes with a 50 year warranty if these conditions are adhered to."
Check out my 'Artwork Stories' section for more info on the origin of particular paintings.
Please note that all creative content in this site is subject to copyright law.
---
---