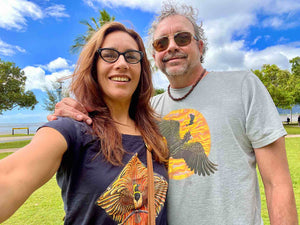 Mens T-Shirts (UniSex)
---
Featuring original artworks by Australian artist Imogen 'Art of ION', these awesome and comfy Uni-sex T-Shirts are unique!

All my designs are screen-printed (and sewed) by hand!
(ie none of these creations are mass-produced).  
This means it's a very durable, long-lasting print and ethical product.
They are quality 100% 160 GSM combed cotton (
160 GSM)...
= soft, comfortable, light-weight and breathable! 

I made the patterns as I wanted them to be a suitable for a wide range of people.

After several design tweaks I believe they are a comfy fit for most body shapes! 
Pls note they all have my logo on the upper back.
Both Mens and Womens are standard Aussie sizes.
Check out
 my 'Artwork Stories' section for more info on the origin of particular designs.
Please see size chart in footer menu :-)...
---
---